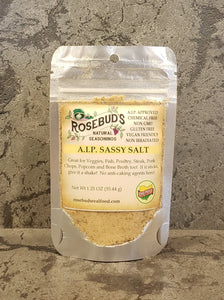 Sassy Salt is our favorite seasoning salt, now in A.I.P. form! Containing hints of lemon, dill, onion and garlic, we find it great for veggies, Fish, Poultry, Steak, Pork Chops, and Bone Broth too! If it sticks, give it a shake! No anti-caking agents here!
Ingredients: 100% Organic Crystal Sea Salt, Organic Lemon Peel, Organic Onion Powder, Organic Garlic Powder, Organic Dill, Organic Sage, Organic Parsley, Organic Marjoram, Organic Oregano.
Nutrition Facts: Serving Size 0.25 tsp (1g), Amount Per Serving: Calories 0, Total Fat 0g (0% DV), Sodium 328 mg (14% DV), Carbohydrate 0g (0% DV), Protein 0g (0% DV). Percent Daily Values are based on a 2,000 calorie diet.