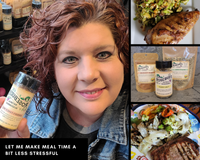 Real Food. Real Simple.
Are you struggling to balance life? Are you worried about what your family puts into their bodies? Do you have a picky eater or are you just bored with the same thing week after week?
Hi, I'm Amber Stephenson, founder of Rosebud's Real Food. I want to help you make meal time simple, nutritious and delicious!
We make gluten free, all natural, organic seasoning mixes with a low sodium, high mineral sea salt. No fillers, no anti-caking agents. Our fruit butters are made with local, non sprayed or certified organic fruit, local honey and local maple syrup. No bag of sugar, no box of pectin.
We also offer over 100 individual herbs and spices, crushed grains, traditional sourdough bread and every day kitchen staples.
Thanks for shopping with us!
Amber aka Rosebud