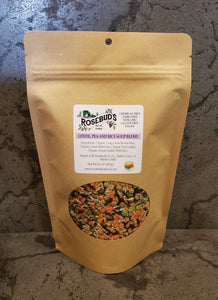 Ingredients: Organic Long Grain Brown Rice, Organic Green Split Peas, Organic Red Lentils, Organic Green Lentils, Wild Rice.
Season with Rosebud's S.O.S.,  Sami's Curry, or Maria's Chili!
Directions: Add 1 cup of soup blend to 2 cups of water with a pinch of salt, soak overnight or for at least 4 hours. Drain blend and add 3-4 cups broth (less will make a thicker soup). Simmer until almost tender. At this point you can add cooked meats and/or vegetables if desired. Simmer until ingredients are tender and veggies cooked through. Season to taste.
Suggested Additions: Chicken Bone Broth, Cooked Chicken, Diced Onions, Carrots, and Celery. Season with Rosebud's S.O.S. or Sami's Curry (add salt to taste for Curry.)

Net Wt. 16 oz (453 g)