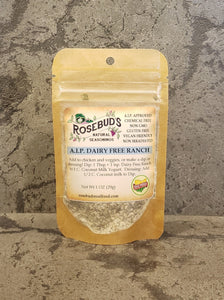 Add to chicken and veggies, or make a dip or dressing!
Dip: Mix 1 Tbsp. + 1 tsp. A.I.P. Dairy Free Ranch and 1 Cup Coconut Milk Yogurt.
Dressing: Add 1/2 Cup Coconut Milk to Dip.
Ingredients: Organic Granulated Onion, Organic Onion Powder, Organic Garlic Powder, Unrefined Sea Salt, Organic Citric Acid, Organic Parsley Flakes, Organic Dill, Organic Chives.
Nutrition Facts: Serving Size 1 tsp (4g), Servings, Amount Per Serving: Calories 0, Total Fat 0g (0% DV), Sodium 18.9 mg (16% DV), Carbohydrate 0g (0% DV), Protein 0g (0% DV). Percent Daily Values are based on a 2,000 calorie diet.