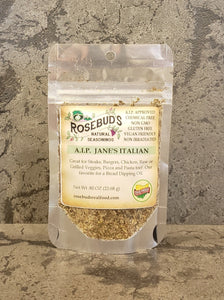 An amazing blend of garlic and herbs. Great for Steaks, Burgers, Chicken, Raw or Grilled Veggies, Pizza and Pasta too! Our favorite for a Bread Dipping Oil.
Ingredients: Unrefined Sea Salt, Organic Garlic, Organic Rosemary, Organic Thyme, Organic Basil, Organic Oregano, Organic Parsley.
Nutrition Facts: Serving Size 1 tsp (4g), Amount Per Serving: Calories 0, Total Fat 0g (0% DV), Sodium 254 mg (11% DV), Carbohydrate 0g (0% DV), Protein 0g (0% DV). Percent Daily Values are based on a 2,000 calorie diet.